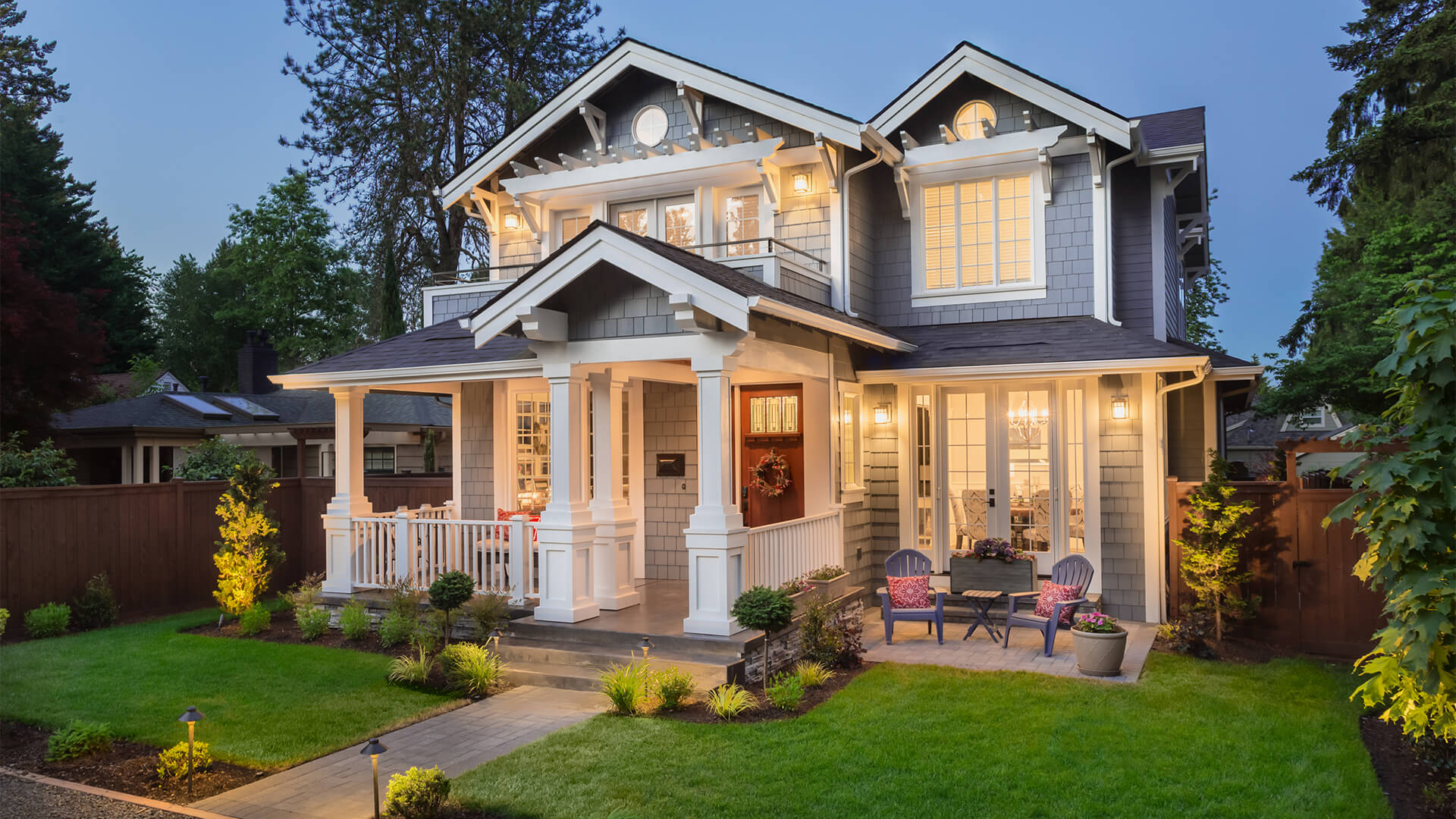 Exterior home improvements, when done correctly, can be a great source of delight for homeowners.  Not only can they add to the aesthetic of your home, they can also be a great way to bring family and friends together.  From outdoor kitchens to pristinely manicured landscaping, the list of exterior home improvement projects is never-ending.  However, not all exterior home improvements are created equal.  Some are heavy on cost but low on return on investment while others are relatively easy and low cost but give you an immediate addition in home value.  These are potential exterior home improvement projects that will benefit you and your family now and in the end give you the best return on investment.
Enhance Your Landscaping
Any exterior home improvement will add to your curb appeal, which in turn adds to your home's selling potential.  Over 90% of real estate agents suggest homeowners tackle basked yard care before selling their home.  One of the easiest most cost effective exterior home improvements is landscaping.  Some homeowners take landscaping to the next level with fountains and ornate garden statues.  But even the most minimal of lawn and landscape maintenance can make a huge difference in the appearance of your home.  For starters, keep your grass free of weeds, sticks, and debris.  Next, trim your shrubs and bushes.  This is a low cost outdoor project that needs only a hedge trimmer and a little patience.  When the bushes are manicured then you can add in new perennials.  These are very low cost and can be found at any hardware store or local nursery.  Added benefit, perennials such as coreopsis and hostas are easy to maintain and look stunning from spring to fall.  Finally add a fresh layer of mulch around your newly planted perennials.  This will keep your landscaping looking fresh and weed free.  Plus, while you are delighting in the sweet fragrance of your long blooming flowers, your home value will be increasing anywhere from 1%-10%.
Update Your Doors
Your front door and your garage door have a major impact on your home's selling potential and on your final sales price.  70% of agents recommend adding a fresh coat of paint to your front door before you sell.  Not surprising considering your front door is the first part of your home that buyers will see up close.  Classic colors such as red and blue are a favorite among buyers and will give the front of your home a bold statement of color.  You can also opt for a decorative wood door if it fits the style of your home.  Your garage door, just like your front door, can draw in buyers but it can also make your life much easier.  As garage doors age they become squeaky and can lose their insulation potential.  This in turn will let in cold air during the winters making your garage less energy efficient.
Build a Deck or Patio
Outdoor gatherings will never go out of style.  They are perfect for family gatherings, birthday parties, and any occasion when you want to gather friends and family in your home.  An outdoor porch or patio can amplify the space available for hosting any kind of gathering.  A backyard deck can be as large or as small as you want, but should always fit the size of your home.  The same goes for the material in which your outdoor space is constructed.  On average the cost to build a deck is approximately $25/square foot, however cost of materials and labor can vary.  The average return on investment for your new deck will be close to 97% of the cost to build.  So if you are planning to entertain outdoors your investment in a deck or patio will far outweigh the cost to build.
Bring on the Shade
Adding a shaded spot to the exterior of your home will immediately make outdoor living more enjoyable, especially on long, hot sunny days.  Not only will it provide a cool spot from the summer sun it will also add a gathering area for family and friends.  The options for an outdoor shade element ranges from canopies and retractable awnings to permanent structures such as a pavilion or pergola.  Each type of shade element comes with its own price tag as well as time required to build so you should research your choice before committing.    Regardless which type of shade element you choose, a shaded outdoor space isn't just a great investment to enjoy during summer months, it is also one of the most sought out exterior features by homebuyers in 2020.  34% of agents surveyed said a shade element of some kind was a feature homebuyers want most to see in an outdoor space.
Dine Outdoors
An outdoor gathering wouldn't be complete without a meal.  What better way to dine with friends and family than to cook and serve their food in an outdoor kitchen.  We aren't talking about just a freestand grill.  Your outdoor kitchen can come with a bar, cabinets, a sink, kitchen appliances, and even a tv. Outdoor kitchens can be as extravagant or as basic as you would like.  The average cost of an outdoor kitchen can be anywhere from $5,500 for a basic outdoor kitchen or closer to $22,000 for a fancier setting.  Generally outdoor kitchens recoup an estimated 71% of whatever you spend.  Regardless of what you choose to pay for your outdoor kitchen you will no doubt find enjoyment in providing a unique dining experience for your guests.
Whichever exterior home improvement you choose to undertake, remember to make it something you and your family and friends will enjoy.  Whether you are planning to stay in your home for only a short time or perhaps much longer, what you put your money and effort into should bring you happiness and hopefully when and if you choose to sell a great return on investment.