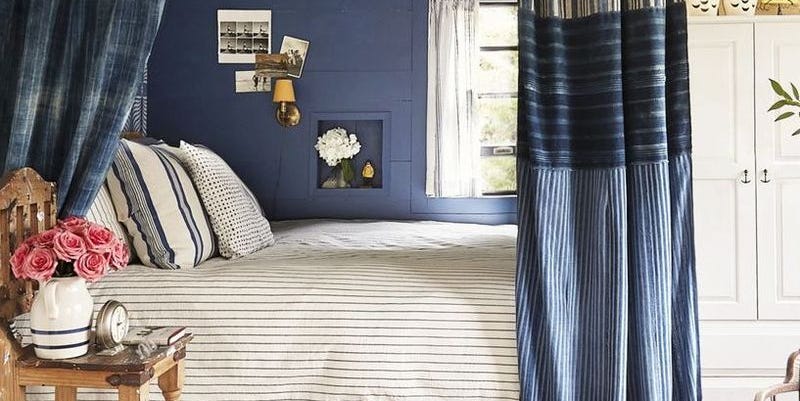 Personalizing your bedroom is a little bit tricky if you can't make any permanent changes to it, which is exactly the case for people who rent their homes. Most leases forbid renters from making permanent changes, such as painting the walls, drilling holes, or changing the hardware. Sadly, this means that for renters, the options for personalizing their space can be limited.
Nevertheless, there are ways to personalize your bedroom without violating the terms of your lease. Here are some of the best examples:
1. Instal peel & stick wallpapers
This type of wallpaper is basically a non-permanent sticker, able to adhere to walls for years but won't leave any residue upon removal. If you can't paint your walls or apply regular wallpaper to make them more your style, peel and stick wallpapers are your next best option.
If, however, you don't want to decorate your entire walls, you can opt for decal wallpaper that is great for adding unique elements to the room. Similar to peel & stick wallpaper, decal wallpaper also acts as a regular sticker that leaves no residue when it's time to move out.
2. Hang a tapestry
There are endless designs, colors, and styles for tapestries, which means you won't have any trouble finding one that fits the bedroom aesthetic you're going for perfectly. What's even better is that you can install tapestries without drilling holes into the wall; you can simply hang them with mounting tape, or by cutting tiny holes in the corners and hanging them on stick-on hooks.
3. Change your floors
There is little you can do about ugly wood floors or stained carpets–except for slapping on a layer of temporary flooring on top of them. Temporary floors offer you both the functionality and aesthetic value of real floors but with easier installation and less commitment, making them perfect renovation tools for renters and homeowners alike. Here are some of the best temporary flooring options to consider for your bedroom:
Peel & stick carpet or vinyl flooring
Vinyl sheets
Waterproof vinyl planks
Foam tiles
Laminate planks
Aside from being easy to install, temporary flooring is easy to remove as well, ensuring that you won't get a headache when you're about to move out.
4. Add a bookcase
A bookcase is both a functional and decorative piece of furniture, as well as a perfect alternative when you can't drill holes into the walls to hang bookshelves. It doesn't matter if you are a book lover or not–if you don't have that many books to display, use the bookcase to display your knick-knacks and keep them organized at the same time. It's also a good idea to get a bookcase that comes with drawer storage as well to have storage space for things you want to keep out of sight.
5. Hang wall art
Adding wall art to your bedroom is a fun and inexpensive option to personalize it. Most apartments will already have nails in the walls made by the landlord themselves or the previous tenants; you can use these to hang your framed prints or canvasses. Otherwise, ask your landlord if you can install nails in the walls for hanging art. If they say 'no', you can resort to stick-on hooks that are strong enough to carry the weight of the art you plan to hang. However, if you do use stick-on hooks, hang pieces that won't break easily and avoid hanging frames with glass panels.
Alternatively, you can place large frames directly on the wall or on top desks, dressers, and other surfaces in your bedroom.
6. Lay down a rug
Can't put down temporary flooring? There is still a way to hide that terrible floor of yours–and that's by simply laying down a nice area rug. Other than aesthetic benefits, a rug helps soften footfalls, warm the floor, and keep the furniture grounded. If you can't choose only one rug, you can lay down multiple to create more creative patterns and combine complementary designs.
7. Change your bedding
The bed is the main star of your room. Since it's usually the first thing that you see when you walk into your bedroom, it only makes sense to make it look more pleasing with a new set of beddings. They don't need to be anything fancy. In fact, just plain white sheets and pillowcases can make a big impact on the visual appeal of your bedroom. But if you want a little more color or texture, you can add a decorative throw blanket, duvets, or decorative pillows to the mix.
A bedroom is a personal space, but when you can't exactly personalize it to your liking due to lease restrictions (or commitment issues), these non-permanent decor hacks are your next best options.