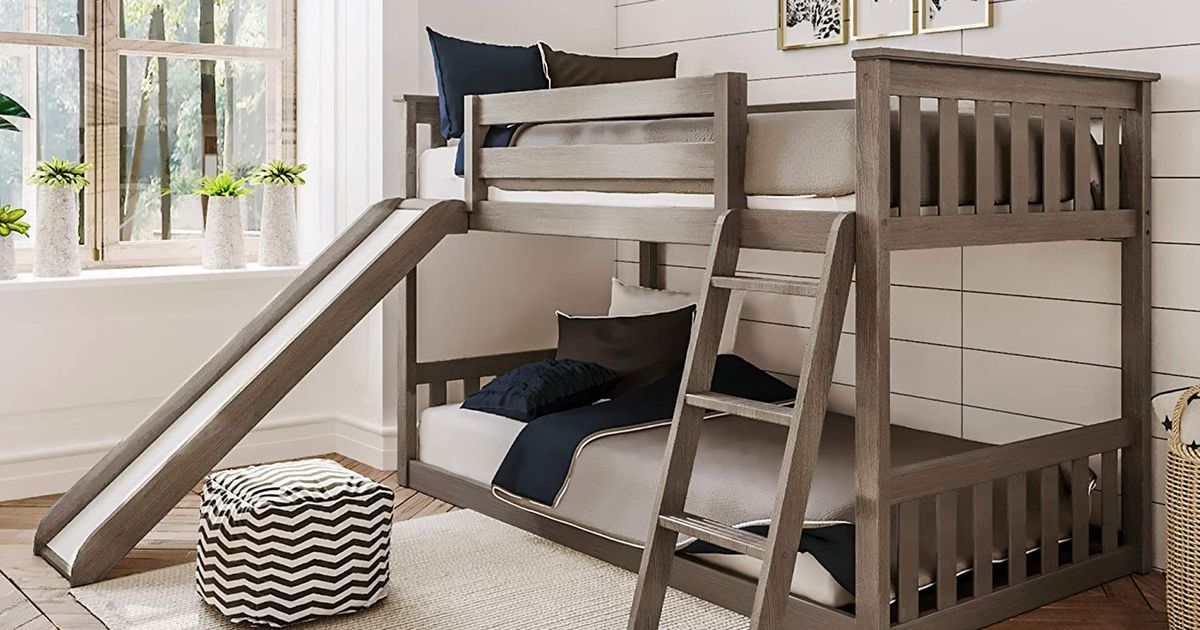 Sleeping for a good 8-10 hours a day determines your children's hale and hearty life. Along with all other activities, you should consider your child's sleep essentials and give them all both fun and comfortable sleeping beds, such as bunk beds.
Bunk Beds are two or more beds stacked upon one another.
Isn't It Exciting?
You can accommodate two beds in place of one. This will make your child's room have a plentiful space and add some luxury to their room. Your kids will have their thrilling nests to sleep on, and you won't have to fret about the quality of their sleep.
So, if you are planning to bring home a new bunk bed, look no further than the collection at Lastman's Bad Boy. They have top-quality kids' room furniture and other furniture articles to glam up your home space. Discover their collection to find the most classy and modern bunk beds for your child's room and give their room that one-of-a-kind look!
While They Present You With A Lot Of Designs, Features And Brands, There Are A Few Basic Features That Remain The Same For All The Bunk Beds, Such as:-
They are made up of strong and sturdy material because it has to support two or more bunks. The bed frame comes with posts or poles at the corners, and these can be wooden or metallic in texture.
A strong ladder or a staircase is attached to the bed's frame for the children to hop onto the upper bunk. Depending on your purchase model, these ladders are a permanent fixture or a detachment feature.
Keeping in mind the kids' safety features, Their comprehensive collection of bunk beds comes up with a railing on the upper bunk to ensure that kids do not fall when they roll during sleep.
Since it is a two-in-one bed, it can accommodate one person on the lower and another on the upper bunk. It's a perfect choice for parents having more than one child.
Now, talking about the safety concerns with the bunk beds, You might have heard about some safety issues due to poor quality or other reasons. But rest assured, Bad Boy's top-notch furniture quality will give you no reason to skip the option of a bunk bed.
There's no denying that they serve you with the best options at the most affordable prices in Canada. Once you go through the stock, you'll be stunned to see their furniture essentials' variety, colour options, and reliability.
Every Bunk Bed From The Collection Exhibits The Following Advantages-
They allow you to utilize the maximum of your floor space.
Some models come with storage racks and drawers, Enabling you to store some clothes and other kids' essentials.
They are ideal for compact bedrooms.
They are less expensive compared to two individual beds and other furniture providers.
You can get hold of various brands, styles, colours and sizes according to your and your child's preferences.
Brand options – Monarch specialties, International furniture, Titus furniture, Signature Design by Ashley.
Colour options – Silver, dark brown, black, grey, white.
Styles – Casual, traditional, youth and contemporary.
Sizes – Full/Double, Twin/Single.
They give you so many options to choose from, and it's a guarantee you will be 100% happy and satisfied with any purchase you make!
These are supernatural! Hurry up; shop with them today and grab the best deals to make your space go like crazy, kids' bedroom!
Have fun shopping!