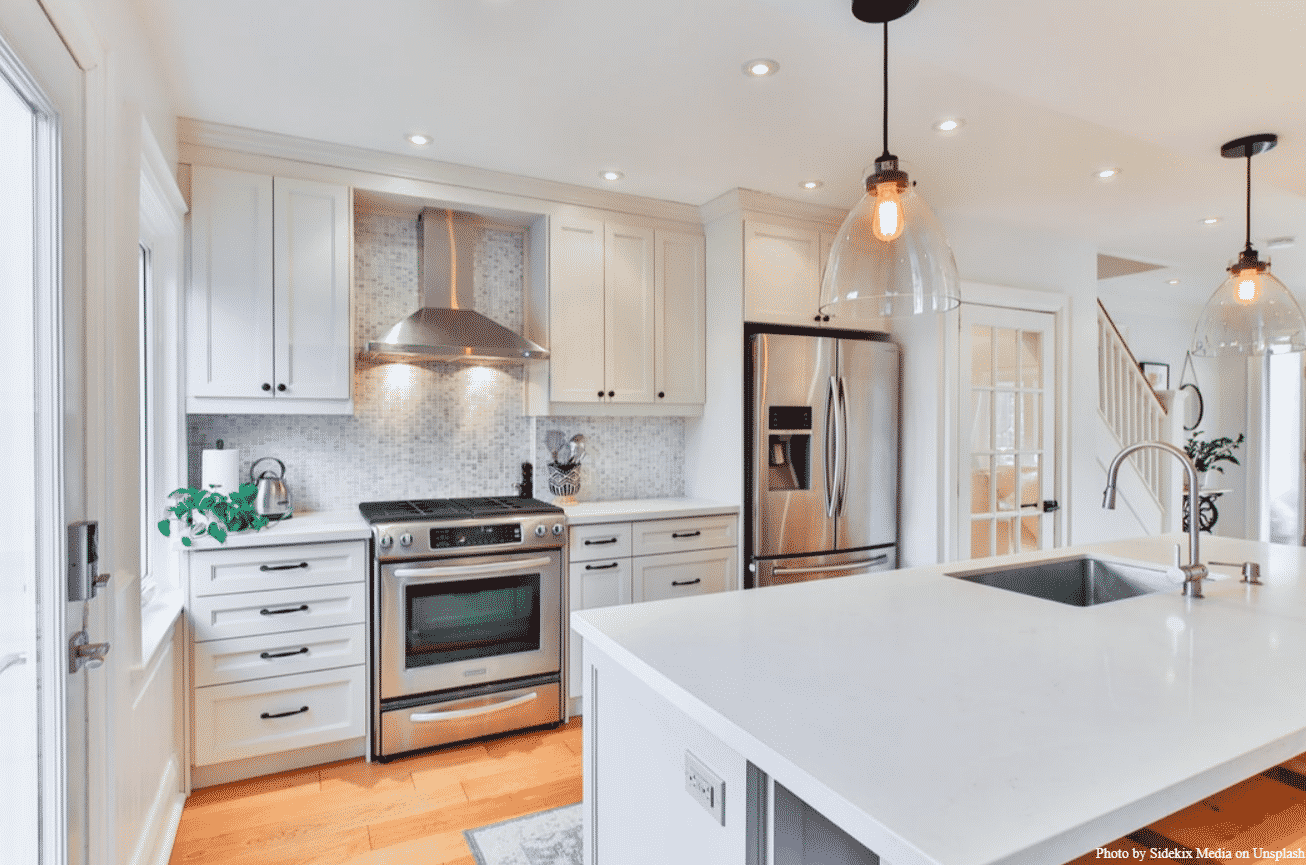 Is your kitchen looking old or dated? It might be time for a remodel!
Did you know that remodeling your kitchen can increase the resale value of your home? You don't even need a big budget to get started. There are lots of small DIY projects that you can take care of yourself that will leave your kitchen looking brand new.
If you are yearning to update your kitchen without spending a lot of money, you'll love our DIY tips for kitchen remodels! Whether you want to renovate a small kitchen space or make over your gallery kitchen, you'll find lots of inspiration on this page.
DIY Kitchen Remodel Ideas
1. Update Your Countertops
One of the easiest ways to completely overhaul the look over your kitchen is to update the countertops. Updating the countertops is a job that you can easily learn to do yourself with a bit of elbow grease and it will completely change the look of your kitchen.
While quartz or granite countertops can cost a fortune, there are lots of other inexpensive alternatives out there. For instance, you can DIY white concrete countertops or use reclaimed faux-wood countertops.
Head over to Build by Ferguson for lots of countertop inspiration ideas. Not only do they offer lots of budget-friendly options, but there remodeling experts are always available to give you advice.
You can even add a Build By Ferguson coupon code to your entire purchase to enjoy a discount!
2. Overhaul Your Cabinets
To change your cabinets, you'll first need to decide if your cabinets are actually worth saving. If they only need a quick update, you can enjoy a major transformation with just some paint. Just make sure you sand your cabinets correctly and you can completely change the style of your kitchen with just a bucket of paint.
While all white kitchens are popular, don't be afraid to try unusual combinations like darker on the bottom and lighter on the top or painting your kitchen island a completely different color. Just be sure to avoid a shiny gloss finish as it is out of style.
3. Change The Backsplash
Updating your kitchen backsplash is an inexpensive way to transform your kitchen. If you're lucky, you might be working with a small space so you can splurge on high end tile. The backsplash is the centerpiece of the kitchen, so make it count!
If you don't want to remove your old tiles, there are plenty of ways to renovate your tiles without changing them. You can even use craft paint and tape to paint over your old tiles.
4. Redo Your Flooring
If your floor could use an update, consider setting up laminate flooring. This type of flooring is so easy to set up almost any DIYer can do it themselves. While you can paint over vinyl flooring, it's only a temporary solution. As the paint starts to peel, you'll be left with a discolored flooring.
Another option is to create your own wood flooring out of plywood. You can find lots of ideas on how to do this online!
5. Change Your Appliances
If you can't afford those shiny, stainless steel appliances, you still have some options. Although, you can always save up for new appliances by following these tips.
You can actually buy stainless steel paint designed to change the look of appliances. The only problem is that it can be difficult to get a really smooth finish. You'll need to expertly sandf your appliances beforehand to make sure the paint adheres properly and gives you the smooth surface you're looking for.