One common reason people give for moving is to gain more space. However, moving may not be an option for everyone. Luckily, you don't have to sell your home in search of a bigger one to gain extra living areas. Instead, turn to one of these five home improvement projects that can increase usable space in your home.
1. Enclose a Porch or Patio
If your home has a patio that you can only use for part of the year, then you are wasting the space the rest of the time. If you live somewhere with sweltering summers, you may retreat to the air conditioning throughout the summer. On the other hand, residents of colder climates may neglect outdoor entertaining areas in the winter.
Instead of letting your patio sit idle, consider an enclosure that allows year-round use. Look into a high-quality acrylic patio cover that can quickly and effectively give you extra living space. With professional installation, you can quickly gain an attractive four-season room. Additionally, blending indoors and out adds to your home's value.
2. Create a Backyard Entertaining Area
Maybe you enjoy entertaining outdoors and are fortunate to live in a climate where that is possible. In that case, you might consider investing in a backyard entertaining area. Be sure to include ample seating for eating, relaxing, and conversation. In addition, creating small conversation nooks throughout the yard can add to its usefulness if you have the space.
A full outdoor kitchen is always a nice addition to these spaces. It allows you to prepare, cook, and clean up without going back and forth between outside and in, which means less foot traffic throughout the house. If you really want to cut back on people going inside, consider adding an outdoor bathroom to your setup. A simple cabana is a great way to include this feature.
3. Invest in Built-In Storage Solutions
Closets that are too small or disorganized often spill items into living areas. One way to combat that is to use built-in organizers. There are several options for this, depending on your budget. You can design a simple solution out of wire shelving, which is affordable and functional. You can also use pre-made units available at most home improvement stores. If you have larger closets or need help, it may be worthwhile to talk to a closet designer for a professionally designed and installed unit.
Built-ins aren't just for closets anymore. There are many aftermarket products you can add to kitchen and bathroom cabinets to make them more functional. Drawers, dividers, and pull-out shelves are just a few of the options you'll find. You can also create a simple faux built-in by combining a couple of bookcases and adding trim moulding to give it a custom look.
4. Reclaim Unused Space
Most homes have abundant unfinished space that can be reclaimed. For example, basements, attics, and even open areas under staircases can all serve as living areas with some modifications.
You may want to hire a contractor for larger projects. It's also a good idea to check building codes in your area to see requirements for windows, doors, and plumbing. While doing that, contact the local building department to ask about the permit and inspection process.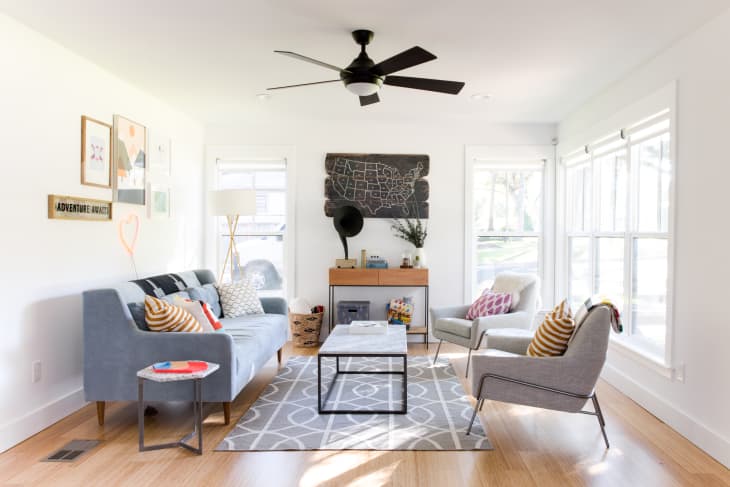 5. Remove Clutter
Now is a great time to get rid of all the extra stuff lying around. You'll reclaim a bunch of wasted space and improve the appearance of your home in one move.
While not technically a home improvement project by many standards, decluttering is a simple and quick way to increase usable space and boost your home's value, which is why it is included here. The simple fact is that clutter makes a home appear small, disorganized, and — often — dirty, and it also contributes to stress and lower productivity.
Start by tossing the things that are obviously trash — like the box of mismatched socks that haven't seen a mate in years. Then, delve deeper into things that are functional but that you don't use. Old sports equipment, tools, and clothes that haven't fit in years are just a few examples to get you on the right track. As a bonus, you can sell them online or at a yard sale to fund another home improvement project.
Enclosing a patio, creating a backyard entertaining space or finishing a basement or attic can help carve out more room for gathering with family and friends, while projects like organizing closets and removing clutter free up space you aren't using efficiently. Either way, you'll get more living area without moving to a larger home.